Daily wear summer kurti collection for ladies!
The sun gets to our head, affects us everywhere in the summers. We love the ice creams, cold dollies and summer dresses. These women kurti designs would help you further to choose easy in this scorching sun. We chose these kurti's for women using some of the most elegant, popular, basic and stylish options to provide you with a variety of your summer daily wear needs. To surprise you further the prices are under 1000/ INR-!
Here are 9 hand-picked women kurti options:
1. Polka Print Women Flared Kurti (White, Grey): Check on Flipkart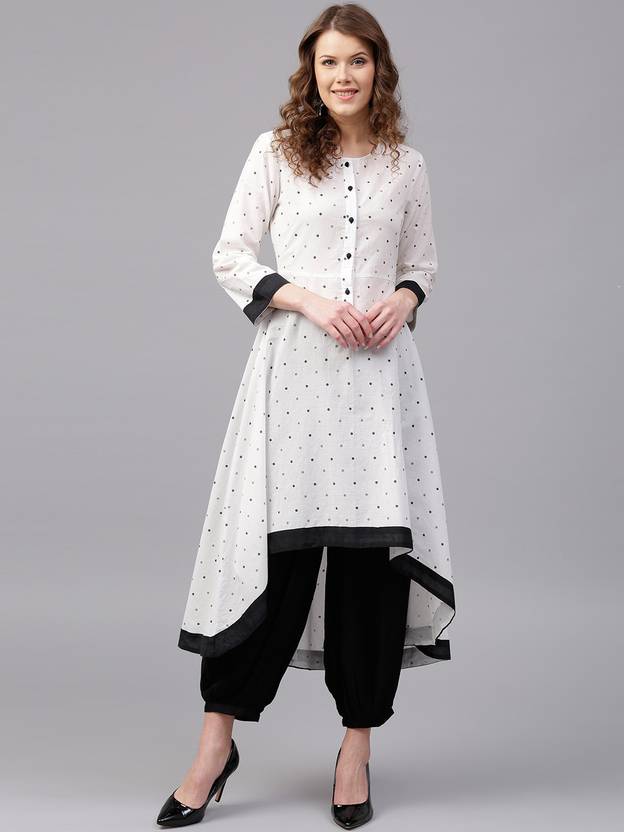 Elegant design, long back, short front gives this women kurti design a thumbs up for your various needs. You can use this for going out in the evenings for a family function or can also be used asa a daily outfit. This one is with White Polka dots, has a Round Neck, Cotton fabric, useful 3/4th Sleeves, High Low, Fit and Flare, Contrasting Border.
2. Indian Virasat Printed Women's Anarkali Kurta (White): Check on FlipKart
IF you are a fan of Anarkali's this can be your match over anything you are looking for. Clean, sober, Indian, traditionally makes it useful. Elegance, perfection and class can define this piece. The material used is best suited for the summer. Adds to your rich sense of style sense.
3.Desi Fusion Women's Straight Fit Cotton Kurta:
If you are looking for an Indo-western type, which can go well for some of your formal needs, this one is for you. You can gel it up with your loose pants or comfy denim, to add comfort for your summer needs. The combination is a perfect blend to give you the statement you are looking for a casual gathering of friends or your family parties.
4.Women's Cotton Straight Printed Kurti (White):
A collection for ladies cannot go without a pink. This kurti design is a sleek, simple plain piece to give you that girly look graciously. This is a light floral design gives you the perfect fit for your daily summer needs. You can pair it with leggings, denim. Flaunt it in your college or amongst your office colleagues.
5. Aurelia Printed Women Straight Kurti (White, Blue): Check on Flipkart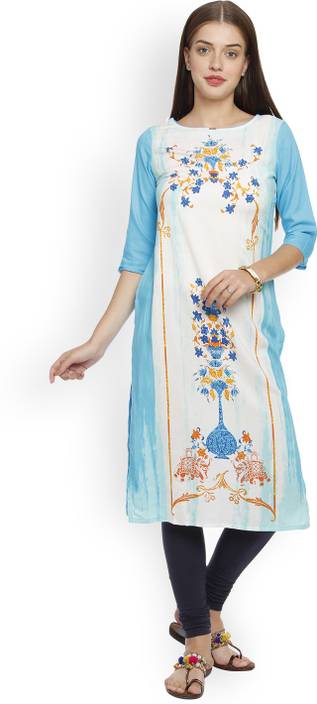 Simple, floral, multicoloured, shaded to be catchy, light for the summers define this kurti. Serves awesomely for your casual daily need. It is honestly simple, useful for daily, comes with an orange variation as well. You can rely on this product to use it while getting down in the evenings.
6. W Printed Women's Straight Kurta (Black, Yellow, White): Check on Flipkart

This is again simple design, but comes with a catchy summer colours design features. The art gives you a serene forest design colour feel. This can be paired with your cool denim and a Churidar as well. Gives you the option to use it Indian and western needs. You can rely on the material to be comfortable for your sunny weather needs.
7. Rangriti Women's Straight Kurta :
This designer gives simplicity another direction. The design collections are all simple, sleek, multi-usable. This particular kurti design provides the soothing feel you need this summer. The flowers blossoming reminds you of the need of the Sun to grow. Simple, elegant straight fitted, pair it as per your needs!
8. W for Woman Women's Straight Kurta :
This is a brilliant blend for Indo-Western needs. The romantic Eiffel adds charm to the design. Trendy design, round necked, sleeveless stylish. The colour is super cool for the summer, it's not white the designer identifies it as Turtledove.
9. Aurelia Printed Women Straight Kurta (Black, White): Check on Flipkart

Are you still looking for a black and white combination for your summer daily wear? Your at the right products, this one is simple, cool, casual, dash of colour to blend it well for your ease of use. Probably your now aware of gist in these designs. Hopefully you pick some of these to help you for your Summers! 🙂 Are you looking for some Best Winter Jackets for Women, click have a look at this collection!